Edmonton, AB, March 8, 2022 – Today, Fairness Alberta called on all parties in Ottawa to support Elections Canada's independent report on adding new seats in the House of Commons and not politically interfere to protect seats in Quebec.
Elections Canada's analysis showed that Alberta should gain three seats, B.C. and Ontario should gain one, and Quebec should lose one due to population decline. Quebec already gets additional seats due to the 1985 "Grandfather rule" and the 2011 "Representation rule" (which guarantees Quebec is the only major province that will always be over-represented).
"A vote in Western Canada or in Ontario should count as much as one in Quebec, but Friday's vote in the House to Commons is designed to make Quebec even more over-represented, at the expense of other provinces," said Fairness Alberta Executive Director Dr. Bill Bewick.
The group was responding to the motion in parliament by Yves-Francois Blanchet, leader of the separatist Bloc Quebecois, stating that any scenario for redrawing the federal electoral map that would result in Quebec losing one or more electoral districts must be rejected.
"Like Equalization and many other federal programs, the current seat distribution scheme already favours Quebec and guarantees they will always have more MPs than they should," said Fairness Alberta Executive Director Dr. Bill Bewick. "It's laughable to suggest Quebec needs even more special treatment in order to have its voice heard in Ottawa."
Thanks to the existing special rules beyond simple population calculations, Quebec would remain over-represented even if it lost a seat; further political meddling unfairly harms the under-represented provinces of Alberta, Ontario, and B.C. These three provinces are also the major net funders of the federation (see background).
"Ottawa interfering with an independent calculation to make Quebec even more over-represented is the latest insult, and it is unacceptable," said Bewick. "Alberta, B.C., and Ontario need to start standing up together in the federation – let's begin by not letting Ottawa hand Quebec seats it doesn't deserve."
Fairness Alberta is a grassroots, non-partisan, and non-separatist association of concerned citizens, aiming to increase awareness across the country related to Albertans' major contributions to Canada, while also providing clear, factual information on unfair federal policies that are anticipated to undermine the prosperity of Alberta and other contributing provinces further.
Our previous releases, interviews, columns, and presentations to the House of Commons Standing Committee on Finance can be found in the NEWS section of our website. For more information on Fairness Alberta, its mandate, and future plans, please visit our website at www.fairnessalberta.ca.
For further information or to arrange interviews, please contact:
Bill Bewick, Ph.D.
Executive Director
Fairness Alberta
Cell: (780) 996-6019
Email: bill.bewick@fairnessalberta.ca
Backgrounder from Elections Canada's analysis:
Chart showing Quebec already benefits from existing protections: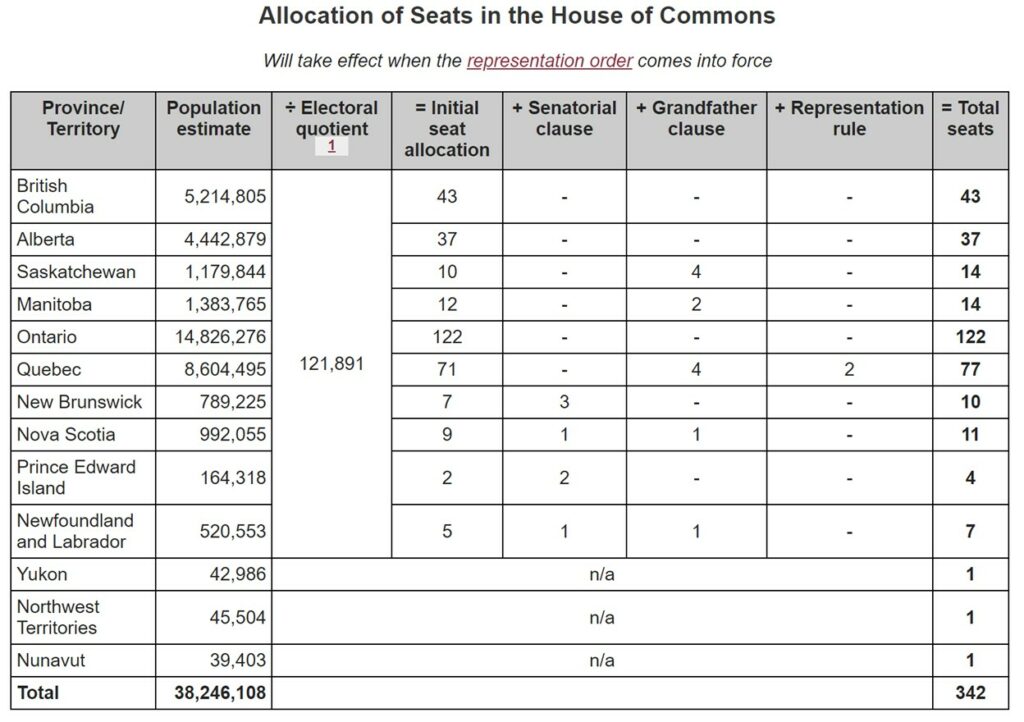 Chart showing Alberta, B.C., and Ontario would continue to be the only under-represented provinces (and Quebec would remain over-represented, despite being the second-largest):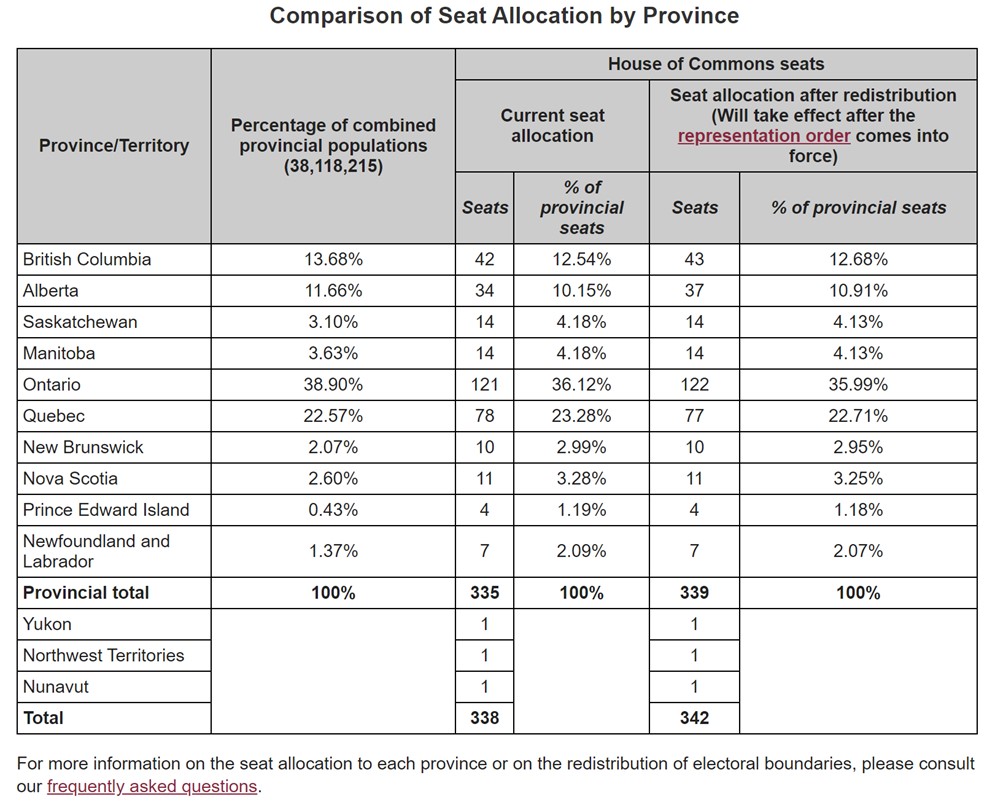 Table from Trevor Tombe showing the three under-represented provinces are the ones perpetually funding the rest via Ottawa: