Albertans' Clear Referendum Win October 18 Being Unfairly Ignored
 
Edmonton, AB, March 15, 2022 – Today, Fairness Alberta launched a campaign demanding the federal government acknowledge the October 18 Equalization Referendum vote on Equalization and formally open negotiations as required by the Supreme Court. Online and social media ads in Alberta and Ottawa begin March 16.
 
In addition to reforming Equalization, any federal-provincial negotiations should address fiscal federalism generally, including eliminating the cap on Fiscal Stabilization payments and rebalancing revenues so that provinces are more independent of Ottawa. Fairness Alberta also recommends the Government of Alberta appoint a Chief Negotiator to be singularly devoted to getting a fair deal for Albertans (see background).
 
"It's unacceptable that a province would go so far as to pass a referendum on Equalization and have it fall on deaf ears in Ottawa," said Dr. Bill Bewick, Executive Director of Fairness Alberta. "Delaying reforms to the bloated Equalization program is costly: $1.2 billion more has come from Albertans just since October 18 to pay for this unfair program, and another $8.2 million is added daily"
 
Fairness Alberta analysis in nationwide columns shows that the program shifts far too much wealth to 30% of the country, especially since the fiscal capacities of the provinces have converged.  Negotiations must at least address the three blatant flaws with the Equalization formula: payments grow regardless of how equal provinces are, it ignores lower costs of services in recipient provinces, and it vastly understates Quebec's fiscal capacity by not adjusting for Hydro Quebec subsidies.
 
"Equalization, and fiscal fairness generally, is hardly just an Alberta problem," noted Bewick. "Families here as well as in Ontario, B.C., Saskatchewan, and Newfoundland shouldn't be on the hook for $2400 or more this year when their own provincial services are under strain.  A Chief Negotiator dedicated to this full-time could take some of the politics out of these critical negotiations and work with other affected provinces to get Canada on a stronger and more equitable footing for the 21st Century."
 
Fairness Alberta is a grassroots, non-partisan, and non-separatist association of concerned citizens, aiming to increase awareness across the country related to Albertans' major contributions to Canada, while also providing clear, factual information on unfair federal policies that undermine the prosperity of Alberta and other contributing provinces.
 
Our previous releases, interviews, columns, and presentations to the House of Commons Standing Committee on Finance can be found in the NEWS section of our website. For more information on Fairness Alberta please visit our website at www.fairnessalberta.ca.
 
For further information or to arrange interviews, please contact:
 
Bill Bewick, Ph.D.
Executive Director
Fairness Alberta
Cell: (780) 996-6019
Email: bill.bewick@fairnessalberta.ca  
Background:
Dr. Bewick had the opportunity to explain what Alberta's Equalization Referendum can mean for the rest of Canada in numerous media appearances during the referendum, including interviews with CBC's Power and Politics and the National Post, a "Vote Yes" column in the Edmonton Sun, and a widely publicized debate at Mount Royal University with Dr. Trevor Tombe.
 
Fairness Alberta used the most recent Library of Parliament breakdown of federal revenues by province to estimate the share of Equalization funding that comes from each province, and broke it down to a per capita basis.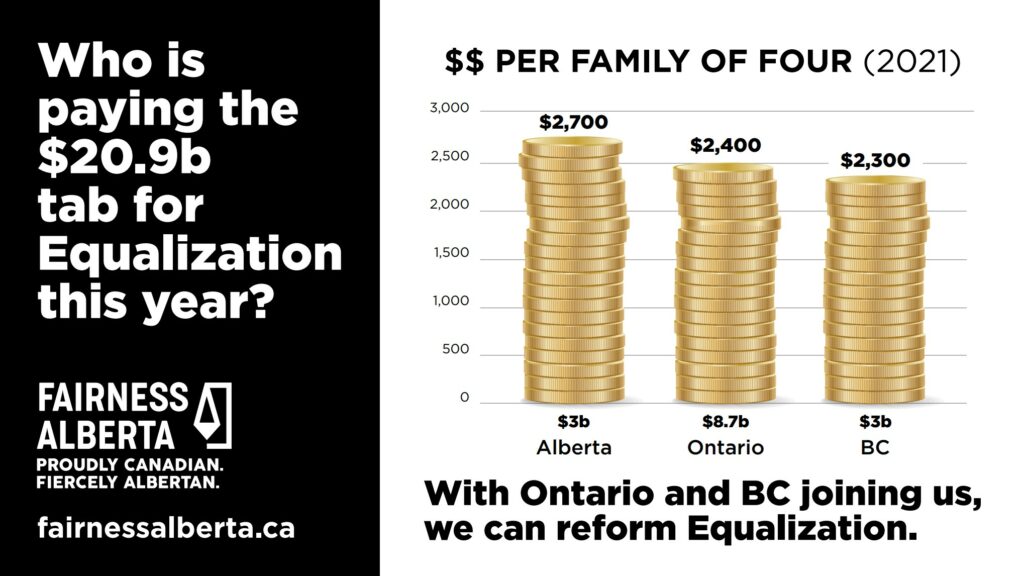 More detailed breakdown of what Fairness Alberta recommends the Chief Negotiator focus on:
Meaningful negotiations should lead to a scaled-down and fairer Equalization formula, an improved Fiscal Stabilization program, and other steps that can reduce the amount of redistribution from Alberta and other productive provinces via Ottawa.

Equalization:

Remove GDP growth escalator and make that a cap on payments, not a floor
Account properly for Quebec Hydro so that subsidized rates don't hide true fiscal capacity
Integrate a measure like CPI to account for fiscal needs.

'Have not' provinces are lower cost, so don't need to pay as much for services as the 'have' provinces do – "Equalizing" their ability to pay does not require an equal fiscal capacity

Provinces have grown much more equal in recent years. Cut the program 50% and use the $11b for a tax point transfer or CHT boost to benefit all provinces until long-term reforms are made

Fiscal Stabilization

Remove the per capita cap so that provinces can actually be 'stabilized' when they face massive revenue drops

Alberta received a paltry $249m payment when revenues dropped $6.5b in 2015
Federal government ignored unanimous request from Premiers for Alberta to get a retroactive payment

Address Federal/Provincial imbalance

Shift tax points so that federal tax bill is roughly equal to provincial – no reason it should be 2:1 when provincial responsibilities (health, seniors, education) are much more expensive. 

Time for the provinces to have the tools they need to be accountable for critical services instead of begging Ottawa
Table from Trevor Tombe showing Alberta, Ontario, and BC's enormous net contributions to the rest of Canada (Albertans sent $324 billion from 2000-2019):